It was the injury that reduced him to tears in the Euro 2016 final, and the bad news keeps on coming for Cristiano Ronaldo after scans revealed the extent of the damage to his left knee.
A sprain caused by a collision with Dimitri Payet in Portugal's extra time win over France was initially predicted to keep him out of action for 6-8 weeks, meaning the Real Madrid ace would miss the Super Cup date with Sevilla on August 9 and the opening skirmishes of the new La Liga campaign.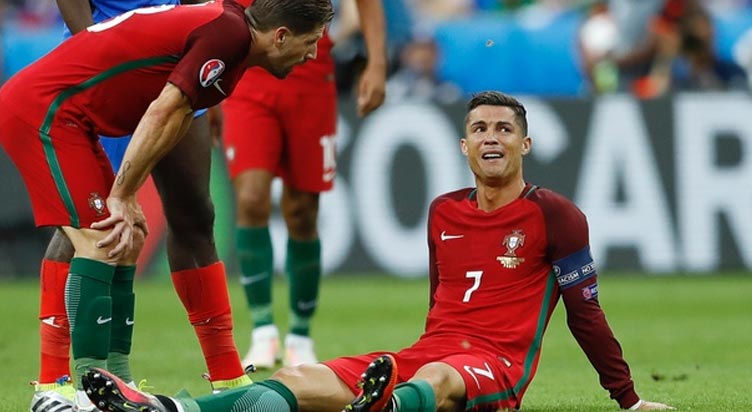 But the latest news coming out of the Madrid camp is that the injury is worse than first diagnosed and could well be a minor tear of the ACL, which could keep the frontman out for 'four to five months'.
The over-zealous challenge of the West Ham winger early in the Euro 2016 final put Ronaldo on the floor, and while he made two aborted attempts to return to the action the pain was too much to bear, and the 31-year-old had to make do with a watching brief from the sidelines. As his Portugal side looked to hold onto the lead given to them by Eder's stunning strike in extra time, Ronaldo turned cheerleader and coach in the technical area as he cajoled his side home to their first major tournament victory.
With a return date of mid-to-late August scheduled, Ronaldo will surely miss the Super Cup fixture in Trondheim and then the subsequent opening pair of fixtures in La Liga, where his Real Madrid side will be looking to wrestle the title away from traditional rivals Barcelona.
If it's any crumb of comfort to the former Manchester United man, he can revel in being named in the Euro 2016 Team of the Tournament and enjoy the European Championship winners medal that, at the age of 31, he probably thought had eluded him.