The competition is divided into Groups A and B, with a total of eight national teams that will play three matches each in four different venues across the country. Group A has Russia, New Zealand, European champions Portugal, and CONCACAF champions Mexico. Group B is formed by South American champions Chile, African champions Cameroon, Asia champions Australia and current World Champions Germany. The four venues that will host all of the tournament's games will be Sochi's First Olympic Stadium, the Kazan Arena, Moscow's Otkrytiye Arena, and St. Petersburg's Krestovsky Stadium which will host the final on July the 2nd.
Confederations Cup 2017 Key Facts
Previous champion: The Brazil national team won the last edition of this tournament back in 2013 when they defeated Spain in the final with a stellar Neymar performance.
Tournament history: The Confederations Cup was created in 1992, it was first known as the King Fahd Cup, and it used to take place every two years. After the 2005 tournament was held in Germany, the format shifted and started a process very similar to the European Championship or the World Cup. Today, the Confederations Cup is played every four years just a year before the World Cup in turn. This tournament is celebrated in the same country the next World Cup will take place for preparation purposes.
Most Confederations Cup Victories: Brazil with 4 (1997, 2005, 2009. 2013).
Biggest Confederations Cup participant: Brazil with 7.
Confederations Cup 2017 Favourites
Germany 3.25/1 odds
The Germans are the absolute favourites to lift the Confederations Cup trophy this summer in Russia; they are the current World Champions after defeating Argentina in 2014's final in Brazil. When we talk about Germany, we naturally think about one of the most balanced squads in recent football history. Despite having many outstanding world-class players, it's their team effort the main feature they have going for them. Regardless of their most recent performances in the UEFA World Cup Qualifiers, we can count on Germany to be one of the most competitive sides in the tournament. The World Champions have the best players in every single line of both attack and defense, starting with the world's best goalkeeper to date: Bayern Munich's Manuel Neuer.
However, the Germans also have some of the best defenders in the world such as Mats Hummels, Jerome Boateng, and even youngster Joshua Kimmich, all of them play for Bayern Munich. In midfield, they have the outstanding presence of Real Madrid's Toni Kross and Arsenal genius Mesut Ozil. Up front, they have Thomas Muller and German youngster Julian Draxler. But leaving all the big names on the side, the Germans absolutely have the greatest chances of actually getting far in the tournament. In the past, this national team has been part of the tournament in 1999 and 2005.
Portugal 3.5/1 odds
The current European Champions, Portugal surprised everyone last summer when they defeated the French in the 2016 European Championship celebrated in France. Back then, the Portuguese didn't give any indication or signs of being the tournament favourites, but they offered some of the most excellent performances throughout the tournament. Their main star, Cristiano Ronaldo, was arguably one of the best players in the competition but unfortunately fell injured in the final after a reckless tackle committed by French midfielder Dimitri Payet. The Portuguese squad managed to get through the remains of the match without Ronaldo, and thanks to a dramatic late winner scored by Eder.
Portugal got to win the Euros against a Benzema-less France that sorely missed the Real Madrid striker in the final; this victory gave Cristiano and company the ticket they needed to the Confederations Cup for this year. This national team deserves the favourite tag just for being the Euros just winner, but they also have a fantastic team behind Ronaldo that will be amongst the most competitive in the tournament.
Chile 4/1 odds
The South American current champions previously secured their ticket to this tournament back in 2015, they defeated Argentina in the Copa America final that took place in Chile. But just to make sure, they completed the task again a year after in the Copa America Centenario final when they defeated Argentina once again. This national team is without question the golden generation of a country that hasn't been as competitive in the past as they are today, they can brag about having some of the best players in the world in their ranks.
But just to confirm what everybody already knows, they have Manchester City's goalkeeper Claudio Bravo, Bayern Munich midfielder maestro Arturo Vidal, and Arsenal's forward Alexis Sanchez. Chile is currently considered the third most dominant national team in this tournament; they have as good chance as any of the two previously mentioned squads.
Confederations Cup's Dark Horses
Russia 10/1 odds
The tournament hosts are considered among the dark horses of the tournament, but all the real advantage they have is the fact that most of the fans will be rooting for them. The Russian national team is considered one of the main underdogs of the competition despite being the tournament hosts, among their best player we can single out Zenit's forward Artem Dzyuba who is considered their biggest star. CSKA Moscow midfielder Alan Dzagoev should bring the experience to Mircea Lucescu's side.
Mexico 12/1 odds
Considered by many as one of the eternal dark horses of the competition, Mexico has featured in six previous Confederations Cup which is only one less than Brazil. El Tri won the tournament back in 1999 when they defeated Brazil in the final with historical forward Cuauhtemoc Blanco at the top of his game; this is considered the most successful page in Mexico's history as a football national team. But for this edition there are many things that have changed, the Mexican side coached by Colombian manager Juan Carlos Osorio, has come a long way from that 1999 winning squad. Now they have almost all their roster of players representing their country in European football's biggest leagues; their main star is Bayer Leverkusen striker Javier 'Chicharito' Hernandez. Mexico managed to secure a ticket to the Confederations Cup after beating the United States in a direct elimination match between the two most recent CONCACAF Gold Cup champions.
Confederations Cup Players to Watch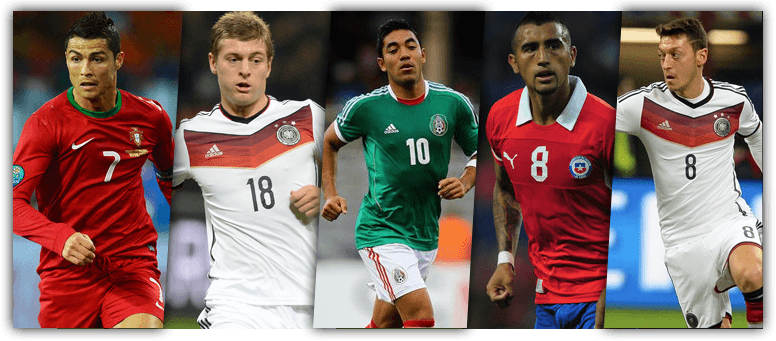 Cristiano Ronaldo
Not even last season when Portugal won the European Championship, had Cristiano Ronaldo arrived at this stage of the year with such prowess and odd in his favour. The Portuguese star is fresh out of winning the fourth Champions League of his career and third with Real Madrid in the last four seasons, but there is no doubt that this season has been the most successful one on a personal level. Zinedine Zidane's brilliant decision to rest Ronaldo for at least 20 games compared to other seasons has been the struck of genius the player needed to bring out the best of his game this late in all competitions, this is the moment when it counts the most. Portugal manager Fernando Santos and all the country of Portugal should be grateful towards Zidane because we will surely witness Cristiano Ronaldo's best version we could ever get, brace yourselves for a stellar performance.
Toni Kroos
Another incredible player who is fresh out of the Champions League victory in Cardiff with Real Madrid, there is no doubt that we'll get to see Toni Kroos' best version with Joachim Low now that Zinedine Zidane has finally given him the starring role he deserved. Kroos will play next to Mesut Ozil and Sami Khedira, but he is the player who will set the tempo in every single attacking chance the Mannschaft will get. This is the perfect time for Kroos to take full command of a midfield position that recently retired legend Bastian Schweinsteiger left vacant, Germany's offensive drives will be his responsibility throughout the tournament.
Marco Fabian
Back in Liga MX playing for Guadalajara, there were a plethora of nay sayers who never believed in Marco Fabian's potential as a key player in European football. However, 'Marquito' never stopped believing in his capabilities and finally had his chance to prove himself playing for Eintracht Frankfurt in the German Bundesliga. His many amazing performances, goals and assists, have positioned him as one of the most creative options for Mexico manager Juan Carlos Osorio who will no doubt give him a chance to prove himself with 'El Tri'.
Arturo Vidal
The Bayern Munich star midfielder needs to control his temper in key matches whether he is representing his club or country, but there is no one who can argue about his undisputed quality and leadership. Vidal just won the Bundesliga with a starring role in the club, but Chile will need his absolute best form and complete focus if they want to make an impact in Russia this summer. His on-the-field relationship with other key players such as Arturo Vidal or Eduardo Vargas will be paramount for Chile's aspirations to lift this trophy.
Mesut Ozil
Another one of Germany's key players who when doing his job on the collective level makes any squad a better contender, Arsenal's star playmaker has yet another chance to prove he can be Germany's trump offensive card in key tournaments. Despite only having won an FA Cup with Arsenal, Ozil is still widely considered one of Germany's best offensive players and one of the world's most talented passing magicians.
The Race for the Golden Boot
Thomas Muller
One could argue that the Germany forward doesn't deserve to be in this category, but once you look at his actual numbers in official competitions, you realize that Thomas Muller lives up to his last name perfectly. It has taken Muller only two World Cups to score ten official goals, which is an outstanding statistic for a player who is only 27 years old. Muller still has the next World Cup, and at least one more to reach Miroslav Klose's historical record as the all-time goal scorer in the tournament. This Confederations Cup should be a good way to practice his goal-scoring skills and let everyone know that Germany has a killer in their ranks, get ready for a surprising performance.
Cristiano Ronaldo
The first all-time historical goal scorer for a country of this list, Cristiano Ronaldo comes to this Confederations Cup at the very top of his game. Portugal will most likely enjoy how much the player has benefited from Zinedine Zidane's alternate 4-4-2 formation with Ronaldo featuring as a centre-forward, all he needs now is a competent group of teammates who will set him up with all the offensive chances and bag their second straight trophy. Cristiano is the player to beat in this competition, there is no doubt about this.
Javier Hernandez
Another historical striker for his country, Javier Hernandez recently surpassed Jaret Borgetti as the all-time striker for Mexico. The Mexican forward's season with Bayer Leverkusen may not have been the best he could offer, but there is increased confidence in his capabilities for this tournament. His track record in official competitions with Mexico puts 'Chicharito' in everybody's betting odds and radar for the Confederations Cup in Russia this summer.
Alexis Sanchez
Arsenal's most decisive player has another chance to become the striker everybody expects him to be. Alexis has the skill to decide a game in a single play, his skills without the ball turn him into one of the most dangerous offensive players in the competition. Sanchez will depend on every single ball and assist he can get from fellow midfielder Arturo Vidal; they have everything it takes to give Chile another memorable international moment.